Sachin's Birthday
Mon 29th Oct '01
---
Featuring James Brown
We decided to throw a surprise party for Sachin, a friend of ours. These are just some pictures taken that night.


It has been viewed
251
previous times

You can only save photos if you're logged in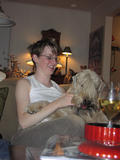 There are
4
pictures in the album
The album has been viewed
1118
times
3.
View Gallery