Halloween
Wed 31st Oct '01
---
Halloween in Seattle
Halloween on Mercer Island. Nicola decides to go trick-or-treating with Hans - a neighbour. There was no drink taken by the way....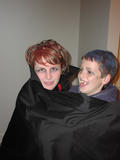 It has been viewed
354
previous times

You can only save photos if you're logged in


There are
3
pictures in the album
The album has been viewed
1260
times
2.
View Gallery