Palau
Sun 24th Apr '11
---
My (mostly) diving holiday to Palau in the Pacific Ocean
OK, first off, the shots don't really do justice to the diving. I was only getting used to it - well, before the case cracked and it flooded....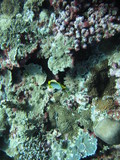 This photo was taken on the
27th April, 2011 at 05:10

It has been viewed
280
previous times

You can only save photos if you're logged in


There are
68
pictures in the album
The album has been viewed
1076
times
28.
View Gallery